This meme is to showcase books that you've received for review, yet haven't yet gotten around to reading. This gives the book some extra publicity.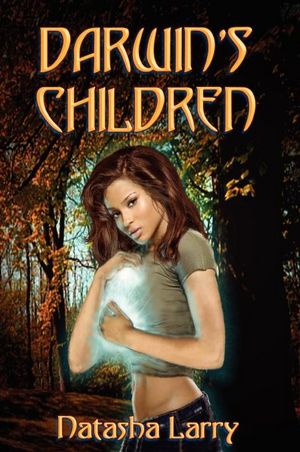 Darwin's Children
(Darwin's Children #1)
by Natasha Larry
Paperback, 262 pages
Published June 8th 2011 by Penumbra Publishing
Life can get pretty complicated for any seventeen-year-old girl, but for a home-schooled telepathic black girl trying to survive in a prestigious private school in small-town Jonesborough, Tennessee, it can be maddening; especially when her telepathic father keeps eavesdropping on her thoughts!
Jaycie Lerner's family isn't the usual mom-dad-kid setup. Jaycie's mom is MIA, but Allison, her personal live-in trainer, is more than a mom, with her own special abilities, like being able to lift cars and run incredibly fast. And Jaycie's godfather John is more than persuasive; he can literally convince anyone to do anything.
As far as the rest of the world's concerned, Jaycie's on the outside looking in. The townsfolk love Jaycie's paediatrician father, but she doesn't fit in with "normal" kids, and she doesn't really want to. Most of her free time is spent training to keep her telekinetic and telepathic powers under control. But there's one thing she can't control; and that's her feelings, especially when her best friend Matt is nearby. If only he knew what she was truly capable of...
Everything seems to be status quo for Jaycie until she receives a cryptic message from a stranger and meets a very unusual girl new to Jonesborough. Then all hell breaks loose!
Unnatural Law
(Darwin's Children #2)
by Natasha Larry
Paperback, 284 pages
Published October 26th 2011 by Penumbra Publishing
Seventeen-year-old Jaycie Lerner's psycho-kinetic power surge is over, and her astounding powers are under control for the time being – sort of. As she struggles to maintain her humanity in the face of the awesome terror and responsibility of her abilities, she also yearns for the chance at a normal life – and a relationship with Matt Carter, the best friend she had to leave behind. But Matt's got a few tricks up his sleeve,and he's not about to give up on his feelings for Jaycie.
As Jaycie and her family grapple with the day-to-day routine of trying to keep their world together, Jaycie's mother figure, Allison Young, endures a personal crisis of her own. The superhuman blonde possesses the physical equivalent of Jaycie's awesome psychic power.
So evolved, at ninety-two she still looks twenty. But what good is extended life when everyone else around her is so fragile? With no one to share her unusual life, she's a uniquely lonely woman yearning for the romantic love she sees all around her. But in a dream she gets her wish – and it quickly turns to a nightmare for everyone else in her life. The memory of a rose is all she can hold onto in the storm of obsession that nearly sweeps her away.
Things quickly turn deadly for the vampires, but the Dey-Vah Guard fairies refuse to acknowledge there's an imbalance in the nature they protect. As the danger gets ever closer to Jaycie and her family, the race is on to find answers before a secret plot can destroy them.
Add both of these titles to your TBR list via GoodReads
& get your copies today via Amazon
I've heard of this series a while back via GoodReads. I was super excited about the burbs even before I saw the covers. After I saw the coveres I was even more excited. The first looks alot like recording artist, Ciara and the second looks like Drew Berrymore (kind of, sort of). I recieved both of these titles directly from the author for honest reviews.