The biggest event this week in fashion hands down was the Met Ball 2014 or Met Gala on Cinco de Mayo! This annual event kicks off the Metropolitan Museum of Art's yearly Costume Institute exhibit and is always a star studded event for celebrities for wear their fashionable best and stunt on the red carpet...like a boss! *lol* So Bina and I decided to talk about the looks that captured our interest!

Katrina: I love when celebs tone down on the red carpet and still look stunning. Emma Stone's adorable crop tank and long wrap skirt is a prime example of modest elegance! #EffortlesslyChic
Hey Bina, what was your favorite look?
Bina: My favorite look of the night was Janelle Mone't! She looked PHENOMENAL! What took me over the top of her look was this response: [in response to, "You always interpret the masculine – the classic masculine dressing with the feminine and the drama."] "For me, it's about redefining 'sexy' and redefining what a woman can wear and showing people things that maybe they didn't know would work and being that model for them. I think that's important, that young girls see that and say, 'you know, I can come and be unique and be who I am and not feel any pressure from anybody else.'" — Janelle Monáe

Katrina:
Oh the detailing on that cape is mesmerizing! I like the classiness of the red to her uniform. Monáe always wears what she calls her uniform to honor her family and I love this red carpet rendition to that code.
Who had the best shoe game? I vote Rita Ora:

Bina:
I'm gonna go with Rosie Huntington-Whiteley:
Cara Delevingne's side curls

Bina: I loved Joan Smalls Side Fishtail braid!

I also loved Dita von Teese's vintage look. It was magnificent!

Katrina:I would have chosen these two for best make up. Joan's lipstick was bold and Dita's overall application was flawless. I love when people try daring new things completely unorthodox and can pull it off. Joan's choice in lipstick and nail polish may not have matched her gown, but to me they really blended nicely. Another celeb that look a leap of fashion faith was Rosie. Aside from her Gladiator style pumps you mentioned earlier, did you check out the size of her earrings? I don't think I've ever seen hoops that big before.

Bina: Yes I have! In the 90's and most 90's styles are making a HUGE comeback so I'm not surprised to see them at the gala! People usually do bold and daring fashion pics for this event.
Katrina:True! As they say, go BIG or go home! As far as big gowns go, I thought Tabitha Simmons was just adorable


and Charlize Theron was regal.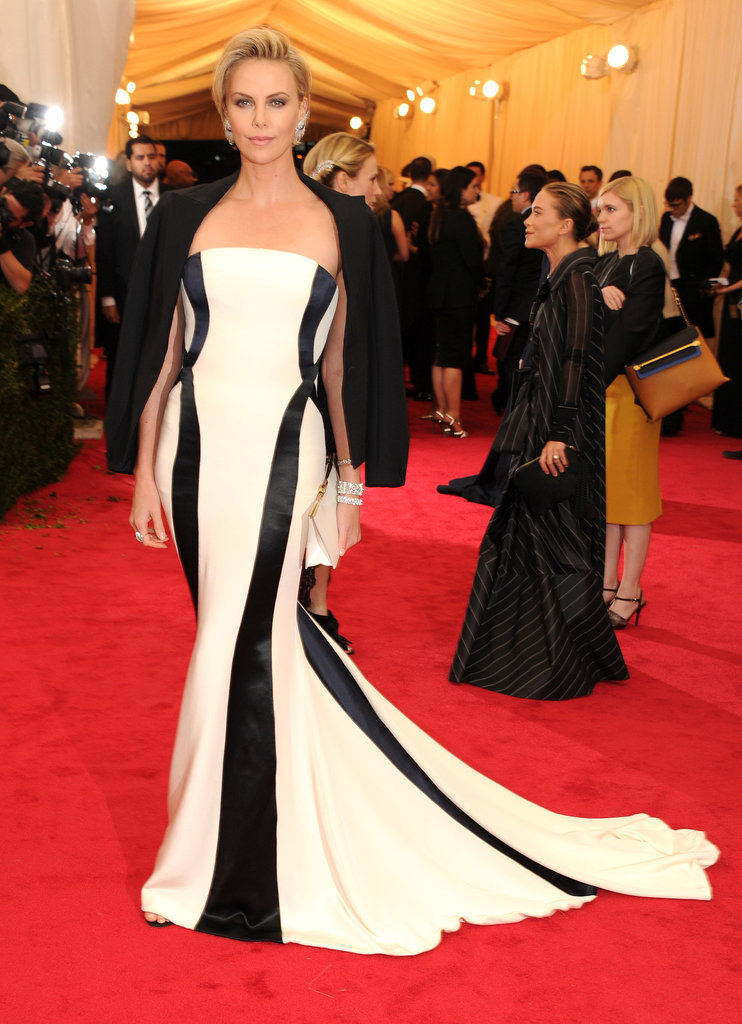 I wanted Giuliana Rancic's and Karlie Kloss' black numbers for my own closet.


Bina: I love that material!