Slade (New Species - Book #2)
by Laurann Dohner
Kindle Edition, 324 pages
ASIN: B005JDTBV2
Source: Ebook - Own
Goodreads | Amazon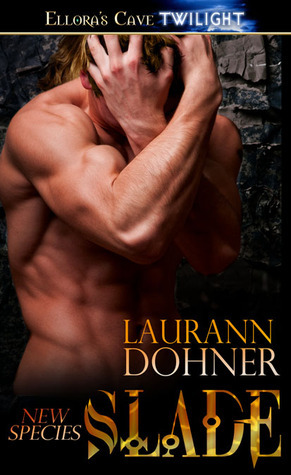 Book 2 in the New Species series. The books can be read as stand-alone stories, but it is advisable to read them in order to get the most enjoyment from the series.Dr. Trisha Norbit is flat on her back in a hospital bed, pinned under a really big New Species male. Though drugged out of his mind, he promises her ecstasy and is determined to deliver—but hospital staff intervenes. 215 is a man Trisha will never forget. But, when she meets him again at Homeland…he doesn't even remember her!The nosy new doctor wants to know all about the breeding habits between humans and Species. Slade proposes a hands-on education but she's not interested in a one-night stand. He can't offer more because he's haunted by the memory of a woman he once tried to claim. He's shocked when he realizes they are one and the same. He's blown it—she'll never give him a chance now.But, when her life is in danger, he's the only one who can save her. As they flee through the wilderness, their desire ignites and cannot be denied. Hot sex, on the run, has consequences that are even more dangerous and will change their lives forever.Reader Advisory: There is a scene of an attempted rape.

Book #2 Slade goes back to the beginning a little where the New Species were freed. After the facility was found and the New Species were take to be protected 415 was badly injured and needed medical attention. 415 was taken to the hospital by helicopter where Trisha worked as a doctor. She heard about the case being brought in and was curious about the man and excited a little to get to work on someone from the facility. Once in the hospital Trisha was thrust aside by a more experienced doctor and was told she could do the after care for him. At that time the New Species only had numbers and this was 415. As Trisha went inside to check on 415 and make sure all was well, she new 415 would not wake considering all the drugs they pumped him full of. They were wrong. 415 wakes and thinks he is still in his cell. He warns the doctor pinned beneath him that she went beyond the kill zone. Trisha is terrified but as 415 contemplates hurting her he starts talking about pleasuring her instead. Trisha is a little turned on and really does not know what to do after 415 kisses her roughly the hospital security takes control of the situation and 415 is not seen again by Trisha.

Trisha is now assigned to Homeland to care for the humans and New Species that have been freed. She sees 415 and he goes by Slade now. She is disappointed when Slade does not recognize her. (Come on he was on a lot of drugs and just rescued from a facility where he was tortured for about 30 years, I think she could have given him a pass on that one.) Slade and Trisha exchange snide comments and later when things with Slade turn to insulting for Trisha she spills it about the hospital. Slade has dreamed of that woman for awhile now and can't believe he did not recognize her. Now he blew it and chooses to stay away from Trisha.

Trisha and Slade are thrown together again when Justice is having her moved to help him with a new project and their lives are now in danger. Trisha becomes dependent on Slade and they become close for the short amount of time they are being hunted by the hate-group-humans. Things get a bit steamy between Trisha and Slade and she feels the relationship will continue after they are rescued back at Homeland.

They get back to Homeland and after a meeting with Justice, Slade realizes that Trisha is a target if they are together. He feels she will be safer without a New Species boyfriend and abandons her. He starts on a project for Justice that takes him to a new facility called Reservation where other New Species will live. These New Species are ones that are a little less human looking or do not want to be around humans at all.
Trisha and Brass become close when Brass is assigned to guard her. Trisha finds out some important news that she needs to share with Justice ASAP and is then escorted to the Reservation facility with Brass, Harley, and Moon as guard to protect her. She is #1 priority now. Slade is upset until he understands why Trisha is there and begs for forgiveness. Trisha is told why Slade left and understands his reasons but they try to work it out.

We are introduced to Viliant and he is a pretty interesting character. This character makes me wish I could see a picture of the man the author describes he would be very intense I'm sure. I believe he must be part Lion with the description given.

All of these books are very interesting with the description of the characters. Of course I love the Alpha male part of it being that they are mixed with animal DNA, it makes sense. And also, I think any woman would swoon over a boyfriend that would also be a bodyguard, eye candy, and sex God.....
It's about more than that though. The whole storyline is really about prejudgisty, isolation, kindness, and acceptance. At least that is what I see so far.
Rating: 4 STARS
Happy Reading!