Revenge Bound
(Tattoo Thief - Book #3)
by Heidi Joy Tretheway
Kindle Edition, 320 Pages
ASIN: B00MAT3WQI
Source: Ebook - Own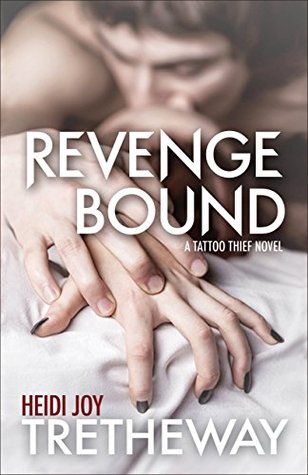 A ripped-from-the-headlines sexy thrill ride "Full of steamy sexual tension that sizzles off the pages and two characters you instantly root for. Heidi Joy Tretheway has a New Adult gem in Revenge Bound." —NYT bestselling author Emma Hart
On the Internet, secrets never die…
Violet can't imagine anything worse than having her very private, very naked photos strewn across the Internet.
Until they multiply like a virus. With her name, address, and phone number attached.
And her boss finds out. And a stalker finds her.
Violet's refuge is a rock star known for going through groupies faster than guitar picks. But letting Jayce get close enough to protect her exposes her secrets—and her heart—to a man whose celebrity could ruin her.
That's because being a nobody is the one thing that keeps Violet's photos from making headlines. And it's the reason she can never fall for a rock star.
Secrets spread like wildfire when a celebrity fans the flames.
REVENGE BOUND is a full-length, standalone romantic suspense novel, and a companion to the Tattoo Thief new adult romance books. It contains steamy scenes and strong language intended for mature readers.
"Emotional and achingly beautiful … it catapults you into the story and you never want to climb out." —Sammie's Book Blog
*Warning this book contains boundage.*
Jayce and Violet meet when Stella hires Violet to take some press photos of Tattoo Thief practicing. This is for the follow-up after the video was released. Jayce could not take his eyes off of Violet. She is stunning with those beautiful green eyes and red hair that make Jayce forget how to speak.
When Stella asked Violet to take some photos of Tyler to help clear the air in the press about a drug overdose. Jayce and Violet's lives intersect again at the hospital.
As Jayce is more and more entranced with Violet he learns a terrible secret that she can no longer hold onto. Jayce learns about Violet's photos being taken against her permission and by her boyfriend at the time. Now Jayce feels that he must protect her from all these nasty texts, phone calls, and online bullies who have her name, phone # and even address. But when Jayce learns that Violet has a stalker that is close by and watching her, he loses it. Violet is no longer safe at her apartment and Jayce insists that she stay with him until they catch her stalker.
Jayce and Violet become closer and Jayce wants a relationship with Violet but if Violet wants to keep these photos out of the press she must stay a NOBODY and Jayce is a rock star and definitely not a NOBODY. Violet wants to be with Jayce more than almost anything but not at the cost of her humiliation and her fathers career. They have to work as a team to eradicate those photos if they want to be in a relationship that will be public. Or Violet must face the judgement of the press and her family when the photos cannot be stopped.
I really like Violet. She is sweet, shy, maybe even wholesome. But then you get a glimpse of that girl who might like being totally dominated in the bedroom. So takes a long time to trust and that is a good thing. You can not give trust so easily these days. And Jayce worked for that trust and earned it. They made a nice couple although I know that Stella and Tyler are cute together with their differences but I think that Violet and Tyler would have been pretty good together too. I mean they are both pretty private and picky when it comes to choosing a partner. But opposites attract in a lot of worlds so this works out with the two of them.
As for the Kristina character, I dislike her book #1 and was not sure where the author would go with this nasty character. You get a little bit of "okay she's not so bad" feelings for her in book #2 but in this 3rd story her true colors show through. And you dislike her even more.
Rating: 3 STARS
Happy Reading!