Hold on Tight
(Sea Breeze - Book #8)
by Abbi Glines
Kindle Edition, 187 Pages
ISBN: 1481420771
Source: Ebook - Own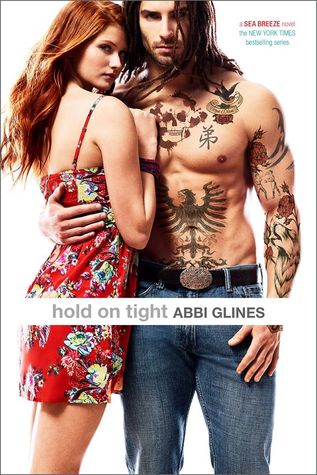 Six years ago, Dewayne Falco's life changed. He lost someone he never expected to lose. Resigned to punish himself for something he felt he could have prevented, he goes through life without getting too close to anyone.
What he didn't expect was for the girl across the street to move back home and remind him of what they both lost: Dewayne's younger brother Dustin. However, when a miniature version of Dustin opens the door to greet him, Dewayne realizes he might not have lost everything after all.
Sienna Roy loved Dustin Falco most of her life. He was the boy next door, the high school basketball star and her best friend. But when his life was cut short, she realized he left a part of himself behind.
Now, she's back in Sea Breeze, thankful to have a home for her and Dustin's son, but not sure if she can ever forgive the people across the street who abandoned her when she needed them the most — The Falcos.
Betrayal, lies, and forbidden attraction might end Dewayne and Sienna's story before it's even begun.
Dewayne wanted Sienna when she was only 14 years old. Dewayne knew that was a mistake, so he pushed Dustin (his little brother) towards her. Dustin and Sienna are best friends and it seemed like a logical answer for Dewayne. Dustin would keep Sienna safe and cherish her.
Sienna felt Dustin forgot her and left her behind as they entered Freshman year of high school. Dustin was always hanging with the basketball team and his new friends. She felt abandoned. Then Dewayne helped her with her locker dilemma and helped her transition to high school more bearable.
Dewayne is stunned when he finds out the Dustin is cheating on Sienna and has been for awhile. Dewayne gives Dustin an ultimatum to tell her or he will. Dustin races to find Sienna before Dewayne can and dies in a car accident because he was driving drunk. Dewayne feels responsible. Sienna is locked in her room after Dustin's death because she finds out she is pregnant. Her parents ship her off to her Aunt and tell everyone that she went to a mental institution due to Dustin's death.
Sienna is expected to give up her baby but decides since everyone in her life abandoned her that she would keep her baby and the small part of Dustin that still remained with her.
5 Years Later: Sienna moves out of her Aunt's and back to Sea Breeze with her son Micah. Sienna gets a good job cutting hair in a high class salon and her mother gives her the house. Her father past away 2 months ago and her mother moved to a retirement community. Now Sienna must confront Dewayne Falco and his parents. She sent numerous letters about Micah but in the end no one wanted them in their lives.
After a misunderstanding with the Falco's, Sienna agrees to let Micah be part of their lives and Dewayne's feelings become more real then he wants to admit. Sienna wants Dewayne but not on his one-night-stand terms. She wants Dewayne in a relationship with her. But Dewayne does not DO RELATIONSHIPS. But Dewayne cannot deny he wants one with her as well.
When Sienna learns the truth about Dustin and that everyone knew he was cheating on her including Dewayne it could be the end of the relationship. Dewayne does not let her push him away now that he knows he has been in love with her since high school. Sienna cannot deny the same thing and she gives the relationship a go.
This was a little strange in the fact that I thought Dewayne should never have pushed Dustin to be with Sienna. They belonged together day one. But I understood the age difference and Dewayne wanting her watched over. I guess with his brother he was keeping her close to him as well.
I love Sienna's character and the way she was able to accept the Falco's into Micah's life and she did not feel so alone once back in Sea Breeze. And I like that Sienna did not let Dewayne touch her unless they wanted the same thing and not just a quick roll in the hay. She wanted commitment and knew she was worthy of love and knew she needed to be treated right or she was fine alone. Sienna was a good mother figure as well. The love you see between Sienna and her son Micah is precious and rare. I think that Abbi Glines truly captured that loving relationship of a single mother and son.
Rating: 3 1/2 Stars
Happy Reading!