Shattered
Extreme Risk - Book #2
by Tracy Wolff
Kindle Edition, 176 Pages
ISBN:0804177759
Source: Ebook - Own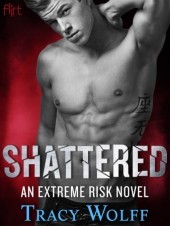 The Extreme Risk series—Tracy Wolff's edgy, emotional take on the New Adult genre—continues with the story of a lost soul and the fearless beauty who inspires him to take a flying leap back into life.
Ash Lewis has poured every last ounce of his blood, sweat, and tears into reaching the very top of the professional snowboarding world—until the unthinkable happens. After the biggest competition win of his career, Ash's mother and father are killed in a tragic accident. Unable to handle the idea of going back out on the snow to pursue the dream his parents shared with him, Ash feels that he has no choice but to walk away from snowboarding forever. Then he meets Tansy Hampton.
Wild, fun, and impulsive, Tansy has a different look and a new passion every week. As a cancer survivor who spent the past several years waiting to die, Tansy has a fresh perspective on life—even if she doesn't have a clue about what she actually wants to do with it. But she's determined to find out, and that means making the most of her time while she still can.
From the very beginning, their chemistry is intense. But while Ash can't stop chasing the ghosts of what can never be, Tansy stays firmly focused on the possibilities the world holds for her—and for them. She's already picked up the pieces of one shattered life. Now she's determined to help Ash do the same.
Tansy is a cancer patient that has been in remission for 7 weeks and working for the Make-A-Wish Foundation. Tansy's 1st assignment is to make Timmy's wish come true. Timmy's wish is to spend 3 days with Ash Lewis watching him snowboard.
Ash has not snowboarded since his parents were killed and his brother Logan was paralyzed. And Ash does not plan on going back to snowboarding, ever.
Tansy finds Ash at the resort selling equipment for the lodge and asks him if he has time to "talk", Ash always has time to "talk" to a pretty girl.
When it becomes clear that Tansy's idea of TALK and Ash's idea of TALK are 2 entirely different things they actually do have to TALK. Tansy asks Ash if he can make Timmy's wish come true before Timmy's cancer kills him. His answer was NO.
Logan and all of Ash's friends trick him into helping Timmy. While on the trip Ash and Tansy become close and start to really enjoy each others company. Tansy admits to Ash that her experience with boys is non-existent and Ash clears the air about the entire mix up of there TALK and there mix up again on the Patio. Those mixups had Tansy thinking Ash was not interested in a more sexual relationship with her. Tansy asks her sister for advice and that goes terribly wrong for Tansy and leaves her embarrassed in front of Ash.
Logan and Ash fight a lot about the accident and Ash's treatment and attitude towards his brothers paralysis. Tansy has a scare that her cancer might have returned and because she did not tell anyone that she was in remission it blindsides Ash. Ash of course freaks out.
Once back in Park City Ash and Logan try to work out the problems and fights they were having over the accident and the predicament it left them in . Ash and Tansy try to work out a relationship and find out if Tansy has cancer again or if it is just a virus of some kind that will clear up.
I loved Tansy. She is going through different phases to see what works for her. Trying on different personalities to match her clothes that day. And seeing which one feels right to her. She is trying to find herself. What I find is that she is spunky, sweet, courageous, strong, daring, curious......
The relationship between Ash and Tansy I felt worked pretty well. They agreed to keep it casual but where still able to maintain a nice friendship. Ash helps Tansy come out of her shell a little more and try new things, while Tansy helps to calm Ash. She helps him focus and understand his brother a little more also.
RATING: 3 STARS
Happy Reading!