UNMASKED
The Complete Series (Volume 1 -3)
by Cassia Leo
Kindle Edition, 454 pages
ASIN: B00O3XZJQA
Source: Ebook - Own
Hidden away for 18 years and trained to kill. She's never been touched... until now.
From New York Times bestselling author Cassia Leo comes a deliciously dark and mind-bending erotic thriller series.
I was born into this world unwanted.
I spent the first hours of my life unloved.
I spent the first eighteen years of my life with the parents who tried to shelter me from the harsh reality of my existence.
But you can't un-write a sad story if the ending is literally written all over your face.
So I moved out and now I hide. I have a night job that pays the bills. Every night, I put on my mask and walk to work.
Then one night, I hear and see something that will change my purpose in life... forever: a murder that will bring him to me.
He says he wants to protect me. And, through a series of events I can't fully make sense of, I find myself believing him.
But our nightly visits are always cloaked in darkness. I don't know his face and he will never know mine.
I was born into this world unwanted. I will leave this world unmasked.
**WARNING: This series is not intended for readers under the age of eighteen due to dark and erotic content.**

Since this is really 3 books in 1 I am going to review each volume as I finish them that way if you have not read one of them you can skip the other reviews so there are no spoilers.
Unmasked: Volume 1: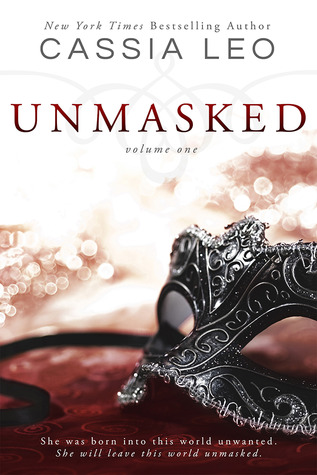 Alex was unloved when she was born. Her mother giving her up because she looked like a monster. At least that is what they told her. She was adopted to a father who was a Black Ops soldier and taught her to protect herself, he taught her to fight, to defend, and even to kill. Her mother is a different story. She did not love Alex and treated her like a monster. Both of them hide her away (for her own safety of course) in the basement. That is where she spent her 18 years on this earth. Training, studying, alone......
Until she moves out at 18 and makes her own way into the world. But Alex lives in darkness because of a skin disorder that makes her feel hideous and ugly. She works the midnight shift at the gas station, she only leaves the house under the cover of night, wearing all black and a hoody that hides her features.
On the way to work one night she witnesses a murder and has to uncover the clues to figure out this mystery man who has now invaded her life. This one night will change Alex's life and her mask will have to come off in order to survive. Alex lives off the grid for the most part so disappearing should be easy.
The night of the murder brought on so many changes for Alex: Her first kiss, first touch, first sexual encounter, first time she killed someone, first time she trusted someone....
Soon she figures out her mystery man and has to make her choice to stay or flee. Which will take us into the next part of this story.
I really like Alex and I am hoping that since she has to take off the MASK that she will begin to love herself. I wanted to know more about the mystery man and his REAL story.
I have questions such as:
1) How does he know her background?
2) If what he said was true about her parents then why was he assigned to her?
3) Who "assigned" him to her?
4) How is he a detective with his "assignments" as a side job?
I do not think Volume 2 will answer any of those questions because of the ending of Volume 1.
Rating: 3 STARS
Happy Reading!