Smiley
New Species #13
by Laurann Dohner
Kindle Edition, 303 Pages
ASIN: B00NET52UW
Source: Ebook - Own
Goodreads | Goodreads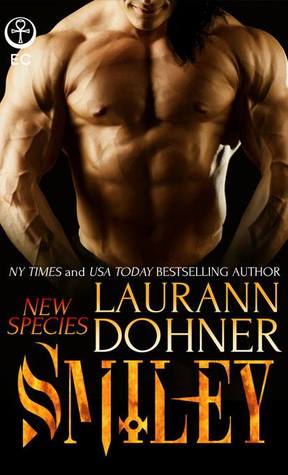 Vanni is furious when her fiancé tricks her into attending a conference where his father's church is protesting the New Species Organization. She hates everything those vile bigots stand for. Vanni goes to the bar to cool off and ends up seated next to a handsome New Species. Things heat up fast when they are both drugged.
Smiley doesn't want to believe the sweet human would dose them with the breeding drug. He's willing to trust her and determined to save her life. He'll hold her. Protect her. Offer up his body to distract them both from the pain. She is his female, even if she doesn't realize it yet.
Vanni thinks Carl can be boring and controlling but him tricking her into attending a conference that his horrible preacher father is holding is takes Vanni's anger to a whole new level. She thinks the hate that his church preaches should be against the law. Vanni realizes she has no idea who Carl is anymore. When she goes to the bar to cool off she meets Smiley and they have a pleasent conversation. Vanni is attracted to Smiley. Towards the middle of their conversation Smiley realizes they were drugged with the breeding drug. He calls the team and gets himself and Vanni to safety. Sex is the only thing that stops the pain. Smiley hears Vanni tell him she is engaged and tries to help her in other ways. Vanni can't fight the pain and thinks about the fact that she was dumping Carl anyway so Smiley and Vanni have a go at it to help with the drugs side effects.
As they are being taken to Homeland to access their health conditions, Vanni overhears the Security guys talking about her drugging Smiley and being sent to prison for this violation against the New Species. Vanni flees thinking that she will be arrested for drugging them.
Smiley is outraged that Vanni is being blamed for the drugging and that she is now missing. Vanni then finds out how horrible Carl, his father and he hulk of a security guy really are after she is held against her will and being blackmailed into giving a false statement to the press. Homeland finds her and puts her and her family into protective custody until the guilty parties can be taken off the streets.
Vanni sees Smiley again and they have the start of a good relationship. There are not a ton of ups and downs in this story. The real action takes place in the kidnapping area of the book and keeps you flipping the pages. After reading the others in the series I am glad that Laurann wrote one on Smiley getting a mate. He is always so sweet and loving in the other books. I wanted a mate for him right away. I am hoping that Jericho is next he sounds sexy and scary at the same time.
Another good story....... Keep up the awesome work.
Rating: 4 Stars
Happy Reading!