Bulletproof
(Songbird - Book #2)
by Melissa Pearl
Kindle Edition, 340 Pages
ASIN: B00NN0RU3O
Source: Ebook - Own
Goodreads | Amazon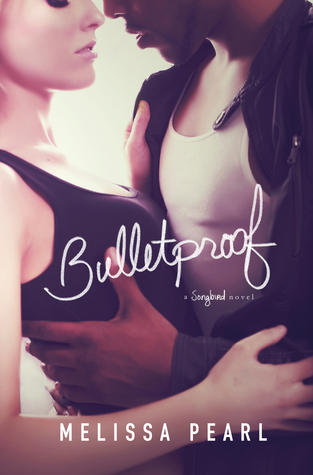 ALL THE SONGBIRD NOVELS CAN BE READ AS STAND ALONE BOOKS.
Bulletproof - Morgan & Sean's story...
Morgan Pritchett doesn't need anyone. Strong-willed and confident, she's the master of organizing and looking after everyone around her. In her mind, she's bulletproof.
But she has one weakness - men. She can't seem to live without them, yet is unable to find her perfect match. After yet another break up, Morgan promises her sister and best friend that she'll write off men for the rest of the year...but then she meets Sean Jaxon.
Sean Jaxon has worked hard to become a Hollywood actor, scoring minor roles and slowly making a name for himself as an action sidekick. After a chance encounter with the stunning Morgan Pritchett, he decides to take a risk and put his dancing skills to the test by signing on for the lead role in Superstar, a TV musical. He never thought he'd reconnect with the girl who urged him to ignore his manager and be honest with himself, but when Morgan shows up on the set as a production assistant, he realizes he's found his ultimate weakness - her.
Their passion for dance and music will bring them together, but will their relationship be able to withstand the forces determined to pull them apart? As Morgan comes face-to-face with her long-buried demons and Sean decides just how much he's willing to risk for love, these two songbirds discover something...they're not as bulletproof as they thought.
Morgan & Sean
Morgan Pritchett is a very independent woman. She takes care of the people in her life and doesn't think twice about it until now. Now it is time that Morgan take care of Morgan. Of course, she still has to take care of her sister Jody who is now pregnant in her 1st year of college with the professors baby and her dad.
Sean Jaxon is a hard working actor who is slowly working his way into the Hollywood ELITE. After a small set-back with an ex-girlfriend his career is on the mend. After meeting a mysterious and beautiful Karaoke Girl he decides to take a different role from his normal ACTION movies. A musical series that is all the rage. And it pays off. He is loving the role and the opportunity to play something outside of his normal and show his acting abilities.
Morgan just graduated college and is having a tough time hunting down a job but finally getting a break she finds herself as a GOFER on a television series set "Superstar" will be a new series starring Sean Jaxon. Morgan can't believe her luck after running into Sean at a Karaoke bar she did not think she would ever see the Bulletproof actor again.
One thing leads to another and they start dating. Morgan's boss (and Sean's boss) treats Morgan like crap. Morgan stands up for herself but is told to quit if she does not like the way she is treated. She wants Sean to stand up for her but if he does his career could be over. The couple struggle and break-up because of this.
Sean figures out he wants Morgan no matter what and rectifies the situation as best he can. But will his career end, will he lose Morgan forever, or will he lose both things in the world that matter most to him.
**This is a very good series and I love it. However, with that being said I do not love that a lot of these stories I am reading have the girl being completely STUPID (not just just storyline). This character is the same way. Morgan knew that Sean could not risk his career yet she got involved with him anyway, she knew he would get fired and never work again but yet demanded him to stand up for her or she was gone…. I dislike these storylines. I'm not sure if FEMALES in general think this way and are stupid when it comes to understanding the basics and are just always playing GAMES but I think being straight forward makes more sense. Maybe it is just me in my real life being more straight forward and to the point and not PLAYING games but I think it is crazy for someone to go into a relationship knowing there is a line that they cannot cross but they think it will be ok if I cross it.
With that being said I like most of the characteristics of Morgan and I love Sean but he did need to be a little tougher than his character. No matter what is at stake you stand up for those you love and want to protect, you do not let people get treated like crap. So Sean needed to MAN UP. This is a basic human need I would think. I also felt that if Morgan could not stand up for herself than no one else should have needed to. It was up to Morgan to PROTECT Morgan.
Rating: 2 STARS (because this storyline is getting old)
Happy Reading!