On Thursday, I had the pleasure of meeting three great authors and being introduced to three fantastic new books. Summer is starting to look a lot better.
The Leaving
by Tara Altebrando
Hardcover, 432 pages
Published June 7th 2016 by Bloomsbury USA Childrens
Six were taken. Eleven years later, five come back--with no idea of where they've been.
Eleven years ago, six kindergarteners went missing without a trace. After all that time, the people left behind moved on, or tried to.
Until today. Today five of those kids return. They're sixteen, and they are . . . fine. Scarlett comes home and finds a mom she barely recognizes, and doesn't really recognize the person she's supposed to be, either. But she thinks she remembers Lucas. Lucas remembers Scarlett, too, except they're entirely unable to recall where they've been or what happened to them. Neither of them remember the sixth victim, Max. He doesn't come back. Everyone wants answers. Most of all Max's sister Avery, who needs to find her brother--dead or alive--and isn't buying this whole memory-loss story.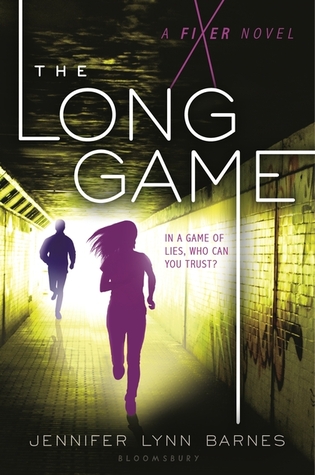 The Long Game (The Fixer #2)
by Jennifer Lynn Barnes
368 pages
Published June 7th 2016 by Bloomsbury USA Childrens
Tess Kendrick, teen fixer extraordinaire, returns in a pulse-pounding thriller about a deadly conspiracy at the heart of Washington.
For Tess Kendrick, a junior at the elite Hardwicke School in Washington D.C., fixing runs in the family. But Tess has another legacy, too, one that involves power and the making of political dynasties. When Tess is asked to run a classmate's campaign for student council, she agrees. But when the candidates are children of politicians, even a high school election can involve life-shattering secrets.
Meanwhile, Tess's guardian has also taken on an impossible case, as a terrorist attack calls into doubt who can--and cannot--be trusted on Capitol Hill. Tess knows better than most that power is currency in D.C., but she's about to discover first-hand that power always comes with a price.
Perfect for fans of Harlan Coben and Ally Carter, the second book in this thrilling series will leave readers breathless.
Break Me Like a Promise (Once Upon a Crime Family #2)
by
Tiffany Schmidt
Hardcover
,
416 pages
Published June 7th 2016 by Bloomsbury USA Childrens
No one is unbreakable.
All Magnolia Vickers has ever wanted was to follow father's path as head of the Family Business. But new legislation is poised to destroy the Family's operations in the black-market organ trade and Maggie's recent behavior has wrecked the business-savvy reputation she's worked her whole life to build.
She's given an ultimatum: shape up or step aside.
Then Maggie messes up: she downloads a virus onto her father's computer, and must sneak it off-estate for repair. When Alex, a tech whiz, uncovers the type of information on the machine, he offers Maggie a choice: her Family can give him a kidney, or he'll irreparably scramble the data. Maggie agrees, but has no intention of keeping her promise or ever seeing him again. That night Alex shows up at her Family estate with copies of confidential Family files and a shocking revelation—the kidney is for him.
The Vickers aren't willing to let Alex out of their sight, so he moves onto their estate and Maggie is assigned to be his keeper. A task she resents and he enjoys making as challenging as possible. But procuring black market organs is becoming increasingly difficult, and as Alex's health declines, she's surprised to find herself falling for him.
Like it or not, Maggie must accept that if she wants to save Alex's life and carve out a place in the new legalized organ business, she's going to have to fight for both.